Bali dive sites. Scuba dive with Southern Dreams Diving Club and enjoy the best dives in Bali!
Whether you are a beginner or an experienced diver, Bali offers dives for all levels.
Bali offers calm dives in beautiful coral reefs. Also deep dives, cave dives, fabulous night dives, and drift dives as well. In addition, the warm tropical waters surrounding the coastline of Bali hold some of the richest and also most diverse marine life in the world.
Special highlights range from extensive coral reefs and magnificent marine life. Also world-class shipwrecks, and expansive artificial reefs. Here you have a one-of-a-kind underwater photo opportunity. You can dive at sunken temples and also statues that have been overgrown with gorgonians and teaming with tropical fish. Also, in Bali, you can enjoy fabulous deep dives and excellent muck diving as well with tiny and strange critters. Even more, in Bali, you will have the opportunity to dive with mola molas, reef sharks, sea turtles, tiny pygmy seahorses, ornate ghost pipefish, frogfish, nudibranchs, clownfish, rhinopias, and fabulous giant manta rays.
No doubt, if we had to choose one word to describe scuba diving in Bali would be "biodiversity".
Bellow, we have written a small description of the most popular sites in Bali. But there is far more to explore on the island beyond these.  Depending on what you'd like to see during the diving holidays in Bali! And also your diving certification and experience. At Southern Dreams Diving Club we can help you organize the best and most unique plan for you.
Bali dive sites: Amuk Bay
All dives in Amuk Bay are boat dives. We go by jukung, a traditional Balinese boat.
We leave from Candidasa beach, and from there we can go to the volcanic islands of Candidasa, the Jetty, or the Blue Lagoon area in Padangbai.
The three islands of Candidasa are of volcanic origin. It takes only a few minutes by boat to reach them.
The islands emerge from the depths in the middle of the ocean. They are surrounded by stunning coral gardens and offer first-class diving with deep walls, swim-throughs, and shark caves.
They are exposed to large currents which attract large schools of fish and also sharks. We can also see lots of turtles that every season come out to the beaches to nest and lay their eggs.
During the dry season in Bali, when the cold currents of the deep ocean rise, rich in nutrients, we can see mola molas that come to the reefs in search of fish to clean them of their parasites and even sunbathe on the surface to warm up before descending back into the depths.
Another special dive site in Candidasa is the Jetty. It is for instance our favorite muck dive in Bali. We also called frogfish paradise!
Padangbai, the most protected area in Amuk Bay, offers an extraordinary macro life.
Highlights in the area are, for example, rhinopias, seahorses, ribbon eels, leaf scorpionfish, frogfish, and many more! It is a perfect dive for underwater photographers.
Bali dive sites: North East
Enjoy relaxed and stunning dives in Amed.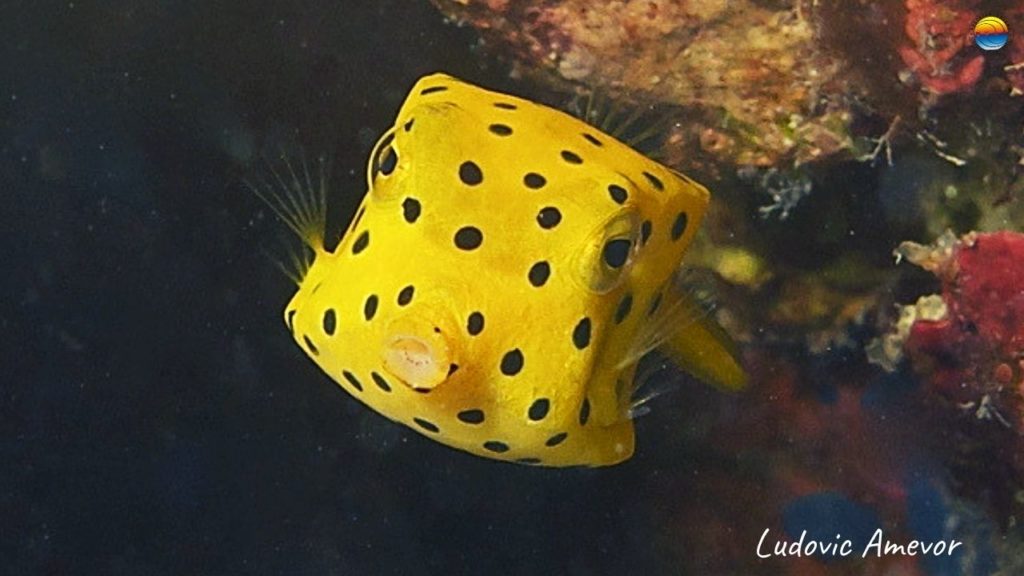 Its black sand beach is famous for its artificial reefs in the shapes of pyramids, mermaids, and also underwater temples.
On top of that, it also offers amazing macro life, like for example pygmy seahorse, ghost pipefish, clownfish, nudibranch, and much more!
At Tulamben, you can enjoy the best wreck diving in Bali. The USAT Liberty is a world-renowned dive.
The wreck lies a few meters from the coast, it is completely covered with coral and a great diversity of marine life lives there. For example turtles, octopuses, and thousands of tropical fish. Also noteworthy is the humphead parrotfish that comes to sleep on the wreck every night.
Another dive to highlight in Tulamben is the Drop Off, a wall that starts from the beach and descends to more than 40 meters. Huge gorgonians grow there and numerous schools of fish live.
Between the wreck and the wall, there is a super relaxed and beautiful dive where you can dive into an underwater temple!
Bali dive sites: Nusa Penida
All dives in Nusa Penida are boat dives. We go from Padangbai by speed boat. It takes 30 minutes of navigation to reach the Northside of the island, and about 45 minutes to reach the farthest dive site, manta point in the south of the island.
On the entire North face of the island, you can enjoy some excellent drift dives!
The coral gardens are simply stunning and full of life. There are thousands of reef fish swimming in the currents and many turtles. And if you look out into the blue you can see large pelagic crossing the ocean. In addition, Nusa Penida is also the perfect place to dive with manta rays and mola molas.
Below you can watch this video of a normal day diving at Candidasa. Enjoy it!
Video credit: Ludovic Amevor
Some facts about Bali dive sites
Bali is located in the heart of the Triangle of the coral reef. In other words, Bali has over 393 species of coral and also 952 species of reef fish
The island is surrounded not by one, but two oceans, creating unique biodiversity. In truth, is a successful recipe for an amazing dive experience
Bali offers some of the best dive sites in the world. For instance, divers find everything from rare macro critters like a pygmy seahorse and also fascinating pelagic species, for example, manta rays. That is to say, Bali has it all!
From total newbies to the most advanced divers, there are plenty of dive sites for all levels. In truth, we dive at more than 50 different dive sites!
You'll have the chance to wreck dive the unique USAT Liberty, an American army ship that served during World War II
Even more, in Bali diving is possible all year round
Water temperature varies. While on average in the North East area is 27 – 29 degrees all year round, meanwhile, on the East side of the island, during the dry season water temperature can drop down as low as 20 degrees
The good news about this is all the new life the cold currents bring! Therefore you have the best chance to see the oceanic sunfish. It is, in fact, the heaviest bony fish (weighing up to 1000 kg!) in the world!